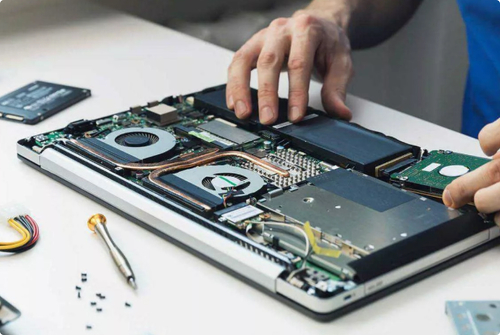 Recover lost data from your mobile computer
Among all portable devices, laptops, and netbooks are most susceptible to data loss due to their mobility and smaller size. Mobil devices are fragile and can easily be dropped, which increases the risk of hard drive damage . They are also most prone to liquid spilling, improper handling, and virus infections. What's worse, laptop users find little-to-no help from their laptop's manufacturers, which contributes to even more data loss.
At Computer Answers, we're able to perform data recovery services for your laptop's or netbook's internal storage. We have ten years of experience in laptop repairs, and as such, we can fix a wide variety of data storage problems, both physical and logical. Our clients are highly satisfied with our data recovery solutions, backed by top-of-the-line recovery software that will leave our competitors in the dust.
We have remarkably high success rates in recovering data from laptops and netbooks. Regardless of your laptop's brand, make, or model, we can professionally take care of your laptop's storage medium and salvage as many files and folders as possible. Our rates are very competitive, and if in the rare event that we aren't be able to recover your data, we will not charge you anything.
We have turnaround rates of 1 to 3 days, depending on the size of your hard drive, the extent of the damage, and the amount of the data to be recovered. This is amazingly fast compared to other services that take almost a week to finish. We also have emergency services if the need to recover your lost data is urgent.
Experience in data recovery on all makes and models.
Here are some of the laptop/netbook models that we deal with on a regular basis:

IBM
Sony
Compaq
Acer
Fujitsu
Panasonic

Our data recovery services for laptops include virtually all operating systems and file systems.
undefined
undefined
There is still hope for your lost data!
In most cases, "lost" data on hard drives is not actually missing - it's there, but the ways to access it have been obscured. With the help of our professional IT engineers, we can reconfigure your laptop's hard drive to show all the data that has been hidden beneath. Contact us at
undefined