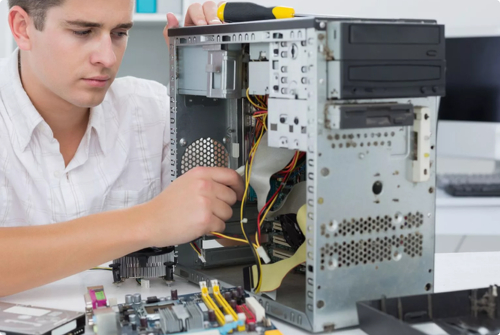 At your Home Technical Support
Computer Answers offers a wide range of technical support services. Anything from helping you set up your wireless network, installing complicated…or not-so-complicated software you just don't have time to mess with. If it has to do with your computer we're here to help with open arms. If you're looking for more general types of tech support, like how to use your new laptop to its fullest, we offer 1-1 training for the most affordable rates in the capital region. Go ahead and give us a try and you'll find out why if it has to do with computers, we've got the answer.
Computer Support in Brooklyn - from Setting Up a PC to Large Office Set-Up
With a wide range of services, Computer Answers offer all the computer support services you might need in your daily life. In a convenient location in Brooklyn, Computer Answers brings the best solution to all your computer problems. Solving any issue beginning with setting up a personal computer to computer repair or helping you set your business center with multiple connected computers, Computer Answers is an expert in all. Setting up a wireless network at your house or your office, we will help you design the best network. Our expert technicians and a team of experienced service providers are trained to repair any computer support and we also have one on one training service which you may need in your office. SO training to replace a damaged computer in Brooklyn, Computer Answers is the answer. Check out our specific services on the website or drop in to meet our associates about any suggestions or questions. You are always welcome at Computer Answers for free consultations.
Computer Tech Repair Near You in New York
Computer support and computer repairs have never been easier in New York with Computer Answers. Small to large, whatever your trouble is, Computer Answers is ready to help you solve all that. Have some trouble connecting your printer to your PC? Your house WIFi is not reaching the corner of your room? Need to set up your office with more than a couple of computers? Thinking about building your own computer that meets your gaming capabilities? Need someone to help you set up the windows on your PC? Yes, Computer Answers help with each and every requirement you have. Any software installs and maintains the same service computer Answers expert team can help you figure it out. Can't bring your computer to our store? We offer remote services so you won't have to leave the comfort of your bedroom. Your requirement will come true with our experienced technicians who will let you know about all the new computer parts in the market. With three of the most convenient locations in New York and the most comfortable hours(9 am to 9 pm every day of the week), Computer Answers is the best computer service and repair center available near you.
Our in-home Repair Services Include
Home network set up

at your home computer repair

in home virus removal

in home desktop setup

at home WiFi troubleshooting

at home personal computer training

at home computer guy at your service

at home apple TV set up