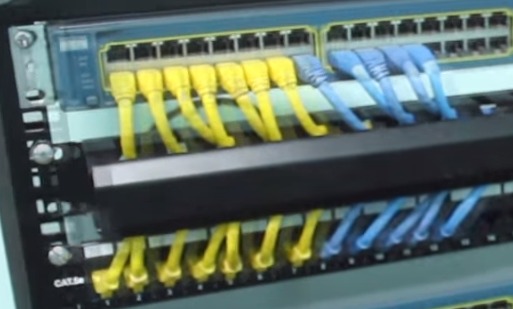 A network cable installer is a person who helps set up network cable wiring for all your Internet connectivity needs. Network Cable Installation is best performed by a train professional, vs the resident IT guy in your office. Wiring networks without the proper tools and experience can often lead to office downtime, with limited or no connectivity. Contact the pros at Computer Answers today and avoid losing profitability.
Network Cable Installation - How We can Help
A good network cable installer can help you set up efficient network cable connections. This ensures that you get uninterrupted connectivity through the computer system and the Internet. Successful network cable wiring means the proper installation of the computer network infrastructure, which can support the proper installation of LAN (Local Area Network) and WAN (Wide Area Network). Effective LAN and WAN systems are crucial to any business because they ensure reliable, quick, and efficient communication between workstations and servers.
Network Cable Installation can be done through the use of:
Category 5 Cable. The Category 5 cable is commonly known as Cat 5 or "Cable and Telephone." This wire is a twisted pair cable, designed for high signal integrity. Although the cable is an old version and new the Category 6 version is now available, Cat 5 is still available and has remarkable utility value.
Category 6 Cable. The Category 6 cable is also known as the Cat 6. The cable is standard for Gigabit Ethernet and other network protocols that are backward. Cat 6 is compatible with Category 5 and 5e cables. The Cat 6 has more stringent specifications for crosstalk and system noise. The cable standard provides performance of up to 250 MHz and is suitable for 10BASE-T / 100BASE-TX and 1000BASE-T (Gigabit Ethernet).
Phone Cable. The phone cable is used to connect the phone through the intercom facility and external linkage.
Network Cable Wiring:
Network cable wiring involves the installation of a collection of connectors, connecting hardware and cables by using unshielded twisted pair (UTP), screened (foil) unshielded twisted pair (F/UTP), shielded twisted pair (STP) or multimode or singlemode fiber optics.
What makes us different? How about FREE Diagnostics, repairs while you wait, and a host of other services aimed at getting you back up and running faster than anyone in the business.