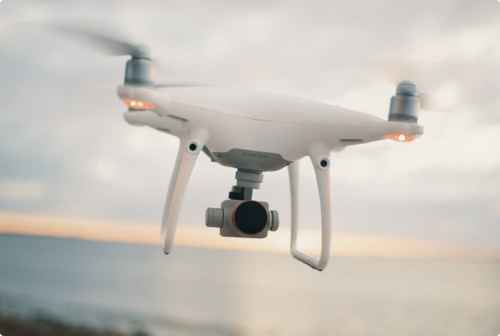 Should I Repair or Replace my Drone?
With drone repairs, Computer Answers also offers the option to customize your drone in any specific requirement. You can decide by repairing the functionality you want to update the speed or any other preferences. Our expert team will hear your prospect and will bring out the best possible ways to build that drone to your specifications. Experienced technicians at Computer Answers in Clifton Park, Brooklyn, and Albany are ready near you to repair and update your favorite equipment. Fix your damaged drone and ask our team how you can make it better with the most recent technology available.
How to fix a Drone?
Before we talk about drone repair let's get the idea of what drones are. Aerial vehicles which do not have any pilot, passenger, or crew onboard is commonly known as a drone. With a ground based controller system and UAV communication system drones are being used everywhere for different purposes especially for photography and videography. Due to power failure or communication problems, drones become victims in many different accidents. That might damage the physical parts of the drone and also some internal parts. Whatever the issue with your drone, Computer Answers is available near you with the best possible solution.
The Sky is the Limit – Fly High with Repaired Drone from Computer Answers
Drones have emerged as one of the hottest pieces of gadgetry. These extremely sophisticated units of electronics and mechanical engineering have traversed from the exclusive dominion of military personnel to a large number of site mappers, surveyors, aerial videographers, retail merchants, and tech hobbyists!
The steadily soaring demand for these UAVs or unmanned aerial vehicles can be attributed to numerous astonishing advantages. For instance, using UAVs for aerial videography helps in saving a considerable of money since these are less expensive than helicopters, highly portable, maneuverable, easy to install, and a lot more convenient. UAV's also make a lot less noise. You can see why UAVs are so useful in the movie Act of Valor.
Unlike full-scale helicopters, there is absolutely no need to worry about intrusion or toxic emissions. Moreover, the use of GPS technology ensures safety at all times.
Boosting the operational capability of existing systems
At 'Computer Answers' we are solely committed to repairing and servicing drones with multiple options of customization, in order to cater to your specific requirements.
The two factors that matter the most to us are – utility and safety. Our highly skilled and experienced technical team is always at your service for addressing every single point of concern regarding the maintenance and repairs of your drones. Our staff works towards increasing the operational capability of existing systems for enhancing the overall experience of drone users.
Customization's for transforming your dreams into reality
With the help of our custom build services at 'Computer Answers', new elements of utility can be incorporated into your equipment for delivering the desired effect. If you are pining to have your drone customized according to your unique preferences, then 'Computer Answers' can easily give shape to your dreams within a short span of time!
Our professionals are adept at reconstructing drones, exactly the way you want them. You might even consider getting a new one built as per your guidelines. You also have the option of ordering your company logo to be embossed on your drone.
Re-discovering your drone with the addition of awe-inspiring features
The folks who treasure an insatiable passion for drones are seldom content with monotonous, dull, and/or commonplace options. They always crave something extra – perhaps a dash of hi-tech innovation, or an extraordinary feature that creates ripples of excitement! Such creative geniuses trust us when it comes to the implementation of your amazing ideas! At 'Computer Answers' we put in our best effort to ensure that you return home with a smile of satisfaction, along with your brand new and cutting edge possession!
Apart from custom building drones, you can also get in touch with us if any particular part of your drone demands repair or replacement.
One-stop Solution for All Your Drone Repair Problems
We assist you in fixing your damaged high-tech toy, drone, as possible so that your work schedule does not suffer. The technicians at 'Computer Answers' carry out an in-depth inspection of your drone and determine the underlying cause of malfunction and issue/s. In case of the replacement of parts, you are provided with salient feedback along with the estimated cost of repair.
In addition to this, our staff can provide you with detailed information regarding operational strategies, configurations, consumption of power aspects, and several other aspects of usage. Our ultimate aim is to provide our clients with a smooth, hassle-free, and thoroughly enjoyable 'drone' experience.