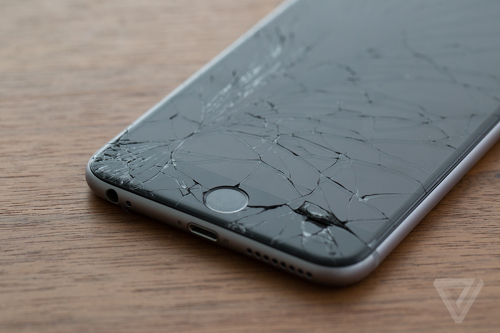 Thank you for landing on this page about your iPhone 6 broken screen. Having been in the business for over 15 years, I can tell you this, iPhone 6 screen replacement is one of the easiest repairs in the business. Although here is the truth. One out of every 10 repairs goes wrong! why? Because each and every iPhone 6 screen repair must be done with love. When I say Love, I mean the love of the customer and doing it right the first and only time. Take care that the screen is installed flawlessly without damaging some other part of the phone by accident. I have been in this business before iPhones were even a thought! I promise that every tech we hire is trained and tested to be sure they know exactly what they are doing! Keep in mind we are 40 to 50% cheaper than the apple store.
iPhone 6 Screen Replacement at Low Cost
Tired of your iPhone 6's Damaged Screen? Now you have Computer Answers. The name that you can count on when you want to fix your cracked iPhone 6 screen or even get a new screen for iPhone 6 and fix it yourself. We know how much your phone means to you, especially when it is an iPhone. This brand is known for its incredible value and class in the market and thus, even if it has a damaged screen, you want to have it repaired or replaced, instead of buying a brand new phone all over again. We get it ladies, and guys, that's why we are in the business!
Wondering about the benefits of getting your iPhone 6 broken screen replaced by us? Wonder no longer! Here it is...
Need to Replace iPhone 6 Screen - We are HERE
Firstly, we believe in keeping our services as affordable as possible. We know most of the repair centers cost an arm and a LEG, when it comes to iPhone display replacement, but NOT WITH US. Why? Because we want your business over and over, and for you to send us your friends. Also, our experience has shown us one thing, GET THE BEST SCREENS, we don't want to fix your phone 6 screens, 6 times or more than once. If you want to change iPhone 6 screen in Albany NY, Manhattan NY, or Brooklyn NY, we want to be the first name on your list! We want to make sure our iPhone 6 repair store is the best and thus, we have hired and trained some of the most experienced professionals in the industry.
iPhone 6 repair is not the only repair service we provide. We can construct any iPhone repair on any iPhone model. Any apple iPhone stemming from the very first one to the iPhone XR can be fixed here at Computer Answers! Cracked screens are never fun and can mess up a phone's operating system, let us help you with that! Whether it's your phone screen, front panel, rear case, or battery life, at Computer Answers we got you covered!