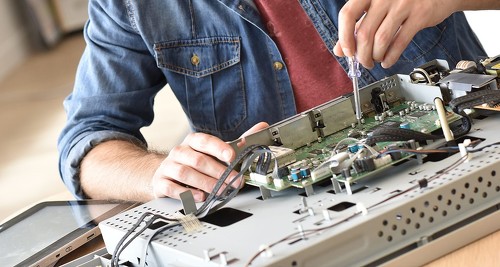 Our TV repair service is an onsite repair option at a cost of $200 plus parts, we will come to your house and diagnose the problem order the parts if possible to repair, and have them delivered to you directly to come back out to fix them. It is important to make sure your TV is worth repairing, as our price is $200 per onsite visit.
Television Repair Near You at New York
Here at Computer Answers we take the same approach with our LCD and LED television repairs as we do with our computer and smart device repairs. Every LED and LCD TV repair starts with a full diagnostic analysis. Our TV diagnostics begins with a detailed review of the hardware components. Hardware issues can often be easily repaired by checking the TV power board for blown capacitors.
Televisions can also have issues related to the TV logic board, this is the motherboard of television; it controls the main functionality of the TV. When this board fails it generally means a replacement board needs to be purchased in order to fix the TV. Other times the TV can be fixed by repairing a damaged logic board, or in rare cases, the Graphics processing chip.. The benefit of having Computer Answers look at your TV is that we offer Free Diagnostics on all TV repairs, excluding extreme cases where a small fee is required if components need to be purchased for further, or more in-depth testing. Why buy a new TV when you can have your existing LCD fixed by our professional staff?